Originally published January 21, 2019
Healthcare providers face multiple revenue cycle management (RCM) challenges, from billing and collections inefficiencies and complex reimbursement models to inaccurate charge capture and changing government regulations. Plus, conducting RCM tasks, including registration, charge capture, claim submission, insurance follow-up and patient collections, is typically expensive and time-consuming.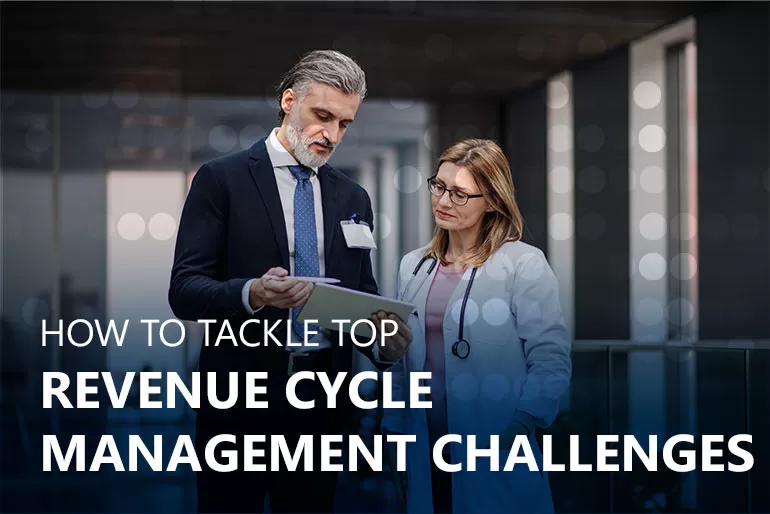 Failure to maintain an efficient revenue cycle often results in an increased number of billing errors, lost revenue and unnecessary administrative time and expense. Revenue cycle risks consist of reimbursement delays, poor cash flow and an overall weak financial performance.
Are you still relying on a manual billing workflow? Find out how automation could improve your revenue cycle.
Approximately fifteen cents of every healthcare dollar in the United States goes toward RCM efficiencies, making it a costly issue. But, by streamlining their revenue cycle functions, healthcare providers can standardize payment processing, reconciliation and denial management. Also, by identifying and addressing the components of the revenue cycle that pose the biggest challenges, providers can better learn how to overcome them in ways that are beneficial for their employees, patients and bottom line.
In this blog, we're focusing on five primary parts of the revenue cycle, including billing and collections, charge capture, coding, denial management and patient access. Although these five functions don't comprise the entire revenue cycle, they serve as a good starting point to form a picture of the overall process.
Billing and Collections
The Challenge:
Because there are so many moving parts throughout the billing and collections processes, the smallest inefficiency can lead to costly rework, denials and lost reimbursement. Many providers look to outsourced billing to handle these functions, but oversight of third-party vendor relationships must be managed to ensure operational and financial success. The major revenue cycle risks in billing and collections include completeness and accuracy of billing, lost revenue, inadequate denials management and lack of third-party control visibility.
The Solution:
Utilize an analytics tool to track medical billing key performance indicators (KPIs) and areas for improvement, which is an important part in tracking the financial health of your business, both operationally and financially. KPIs help physicians and management understand the strengths and weaknesses of their revenue cycle to help guide future decisions and help prioritize resources and help recognize key success drivers. To make sense of this data, use a business intelligence reporting and analytics tool that will improve your ability to identify trends and patterns and increase awareness around what variables impact your practice.
Automate patient registration to collect accurate patient information upfront, which sets the groundwork for efficient billing. Without it, denied claims and lost reimbursement typically follow. Each unique visit should be validated by staff under the patient billing system, and the patient's demographic information and insurance eligibility should be determined upfront. This can be done manually, but it's laborious, time-intensive and leaves room for human error. Supplement staff workflow with as much automation as possible to improve billing registration accuracy. Software solutions like ImagineAI™  validate when a patient is eligible for primary insurance listed on the visit and/or your list of top payors before the claim is sent to insurance. Once you receive the positive eligibility response, the solution will add a note to the visit with the patient's identified payment information.
Communicate clearly with patients, and never underestimate the importance of being transparent. It's necessary for providers to train their billing staff to answer questions about pricing over the phone and in person. Billing staff must learn that communication with patients is not a "soft skill" but something that must become second-nature. This is especially crucial during time of service, when staff is face-to-face with patients. Explain financial policies right away, follow up with the patient if there is any confusion and be sure to use an appropriate tone. How you engage in conversation with a patient is just as important as what you say.
Demand third-party visibility. Outsourcing parts of the revenue cycle process has its benefits, but lack of visibility can lead to micromanagement, which defeats the purpose. Medical billing companies and other third-party vendors should be able to supply you with performance reports automatically or upon request, providing you with much more visibility into your billing operations.
Charge Capture
The Challenge:
Managing charge capture and maintaining an accurate charge description master (CDM) serve as the starting point for billing patients and payers and form the heart of a healthy billing cycle. Providers must accurately load and regularly update pricing for services while also billing in accordance with the charging and billing guidance provided by Medicare and other payers. Without the correct training on documentation and metrics, the accuracy and completeness of charges becomes a major revenue cycle risk.
The Solution:
Any quality medical billing software should automatically flag incomplete charges, but there are several strategies that providers can adopt to ensure that charge capture is accurate and complete.
Employ proper training to educate staff on existing rules and regulations, including Centers for Medicare & Medicaid Services (CMS) and payer-specific rules and your current procedural terminology (CPT) codes, which change frequently. Consistent training helps to ensure charge accuracy.
Leverage your existing resources before implementing new policies. Use your electronic medical record (EMR) to identify missing and inaccurate charges and alert your team. Try setting up work queues to flag patterns of missing charges and high-quantity errors.
Review lag times for both date of service to billing/coding and service date to posting date and claim submission. Compare to industry benchmarks to identify areas for improvement. Build the billing team and physician relationship - improving charge accuracy can't be accomplished only by the billing team. Establishing a strong relationship between the billing team and physicians will ensure more collaboration to correct the process in a way that's mutually beneficial.
Perform charge capture audits. If your practice management system has the proper reporting functionality, it will be incredibly helpful for this task. Charge-capture audits are necessary to ensure that internal procedures have been properly implemented and carried out. The information included is up to the practice; the key is to perform audits consistently.
Coding
The Challenge:
Because of growing compliance standards, it's becoming more and more challenging for providers to code accurately. ICD-10-CM requirements for diagnosis documentation often lead to insufficient diagnosis codes and increased workloads, both major coding risks.
The Solution:
Provide ample training, especially for inexperienced coding staff who might lack the proper knowledge to accurately code for the highest possible reimbursement. Conduct up-to-date training for both physicians and other staff members on the most recent CMS guidelines. Physician's Practice suggests having a coder shadow and scribe a visit along with the physician's documentation to compare.
Utilize claim scrubbing. Medical billing software solutions with built-in claim scrubbing improve coding accuracy and remove manual workflows for coders.
Conduct regular audits. Although "audit" typically has a negative connotation, auditing coders on a regular basis will identify any issues in a timely manner. If done with the right intentions and frequency, it's something that doesn't have to be painful for anyone involved. Consider auditing for quality instead of only productivity or speed.
Subscribe to CMS updates, which include updates on modified codes, or check the CMS website on a regular basis.
Provide better decumentation for physicians. Along with coding-decision support for physicians, it can drastically improve coding accuracy, especially for highly-compensated encounters that require more rigorous documentation.
Denial Management
The Challenges:
Denied claims can be caused by numerous departments and workflows. The average claim denial rate across the healthcare industry is between 5-10 percent, costing approximately 20 percent of total revenue cycle expenses.
The Solution:
Track KPIs for denial and third-party payer reimbursement. By tracking KPIs such as claim submission performance, charge period revenue analysis and procedure reimbursement, providers can better identify areas for improvement in denial management and establish a payment variance process that helps determine whether payers are paying correctly based on the contracted rate. Receiving these reports on a daily, weekly and monthly basis will improve your ability to monitor financial reporting by leaps and bounds.
Break down denails by category to help identify specific processes that could be causing the greatest revenue loss. We recommend tracking areas such as credentialing, registration, preauthorization and charge entry.
Automate manual processes. According to the Healthcare Financial Management Association (HFMA), thirty-one percent of hospitals manage denials manually using spreadsheets. Preauthorization, electronic remittance and auto coding and charge posting are functions that can be automated to help staff save time and increase accuracy in claim submission. If your current medical billing software vendor or billing company doesn't allow for this kind of automation, consider switching to one that does.
Patient Access
The Challenge:
The lack of control over patient registration is a major financial risk area for providers. There are a lot of scenarios where this goes wrong, from inaccurate collection of patient information to failure to collect copayments or coinsurance in advance. Providers need a solid strategy and ample training on the front end to minimize the risk of billing issues and increase patient satisfaction.
The Solution:
Leverage tools for estimation. Adopting an estimation tool gives patients a snapshot of how much they owe out-of-pocket. If you can inform patients about their financial responsibilities upfront, there's a higher likelihood they'll pay their bill.
Perform a data clean up. Although this is a time-intensive process, doing so can prove to be incredibly effective in wiping the slate clean and improving the accuracy of patient information.
Give patients the ability to pay through an online portal that's integrated into your billing platform or that of the medical billing company you utilize. Patients are given more control over their payments and have the option to pay bills in one place at any time from anywhere. The patient's responsibility is clearly communicated, making it easier for faster payment. Online patient portals have been found to improve efficiency and engagement, and patients who establish a relationship with their providers via a patient portal are more likely to return to that provider.
Offer payment plan choices. By promoting payment plans, providers enable patients to pay off medical debt a little at a time instead of all at once. For you, it's another step in streamlining your collection process while obtaining more patient payments.
By employing these solutions to mitigate revenue cycle management challenges, healthcare providers are equipped with advanced metrics and comprehensive reporting capabilities that give them a real-time snapshot of their financial performance. Healthcare providers striving for a strong revenue cycle must employ best practice procedures and processes from the front end all the way to the back office. Without addressing top healthcare revenue cycle challenges, though, they may unnecessarily lose out on thousands of dollars in reimbursement from patients and payers.
We collaborate with physician practices in various specialties, from anesthesiology, to pathology, emergency medicine and urgent care.