It's a challenge that gets more complex every year—finding a cost-effective way to collect from patients who are either true self pay, or pay after insurance has been applied. The increasing cost of health insurance has resulted in the proliferation of high-deductible plans as an option to lower premiums. This has resulted in increased patient responsibility which has ballooned the least efficient financial class. Fortunately, there's more technology than ever to help address the situation.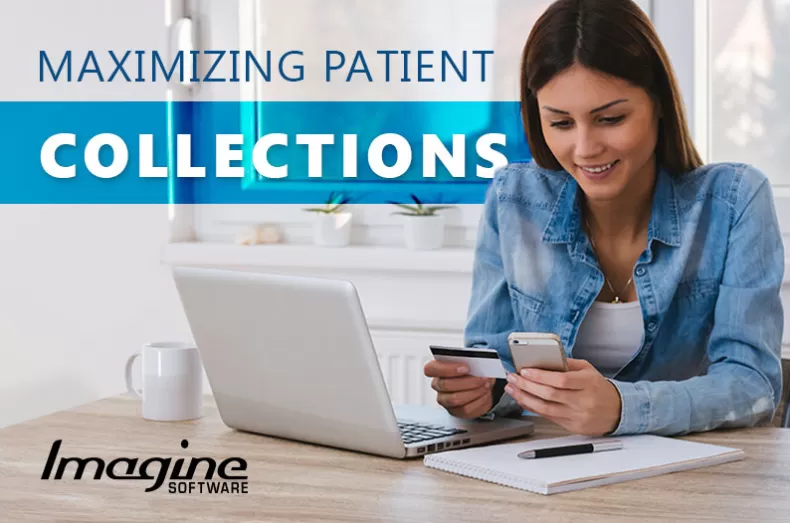 While there will always be true self-pay patients, we've tried to accommodate patients that fall outside this category with separate fee schedules, cash discounts, and payment plans. There is also a growing population of "may as well be self-pay" patients who owe money after their insurance has taken their discount. These clients have larger balances due to high-deductible insurance plans. If your practice uses ImagineBillingTM, there is a potential gold mine in your patient tickler. Here are some tips to put your practice on a healthier financial future:
There is an obvious need in imaging centers for accurate patient responsibility estimations that you can collect at the time of service. It's a fine balance—you want to collect as much as possible without creating a credit balance problem on the other side. You have a few options:
Calls/website visits to the patient's insurance plan to determine how much they may owe at the time of service
3rd party solutions that do the work for you of determining how much patients own
ImagineSoftware's Patient Responsibility Estimator. To the degree possible, this estimation work should be done a day or two prior to the patient's arrival. Too far in advance, and you may have an inaccurate estimate, but allow enough time that you can have that information ready by the time the patient arrives.
While imaging centers are no strangers to payment arrangements/plans and time of service discounts for true self-pay, there are more options in terms of financing that may make sense for your higher dollar procedures. For hospital-based practices, the job of patient collections has always been tougher. Your radiology bill will be one in a sea of many and you receive (frequently inaccurate) billing information after services have been rendered. You want to bill patients for their portion of the bill as quickly as possible. While there is a philosophy in opposition, I disagree with deductible "holds" (where the patient is not billed for a pre-determined period of time so other organizations receive the deductible denials) for a couple of reasons:
If you received incorrect insurance information from the hospital in the first place, holding the bill can only hurt you in the race to timely filing.
The radiology bill in comparison to the rest of the patients' bills will be relatively small. It's easier for them to comprehend paying $150 rather than $15,000 so there is a likelihood you will be paid earlier.
Our jobs are complex enough that we don't need to add a time element into the mix. The job is (relatively) simple: receive the study, code the study, submit the bill, post the payment, and send the bill. Patients (and practices) don't like calls of "what is this bill from 2018 for?" Deductible holds made more sense in an era of lower patient deductibles being met in January. Unfortunately, those days are over.
ImagineSoftware is an industry leader in ease of use for backend processes. In this case, the patient tickler and mail return queue. Based on prior consulting work, we found that a good patient collector can net your practice several hundred thousand dollars. And by leveraging today's technology, that number can only increase.
By working the patient tickler, you can prioritize high dollar studies and use ImagineDiscoveryTM to determine if the self-pay patient may have unreported insurance coverage. Our propensity to pay software assigns a patient an A or B rating which you can work first to maximize your collections.
And speaking of saving time, ImaginePayTM alleviates the patient payment posting burden on your posters; historically a cumbersome amount of manual work for relatively small dollars. Now the patients can pay online, and a file runs in your system nightly that auto-posts the payments for you.
You can make the burden of collecting patient payments a less Herculean task by considering a few operational tweaks and leveraging new technology. Due to increasing deductible responsibilities, the self-pay population of your practice can no longer afford to be ignored.