Definition
Key performance indicators in pathology billing are a measure of pathology billing performance in select areas like clinical and anatomical pathology billing using criteria such as time and money that are important to the operations of a laboratory or physician billing practices.
KPIs are the things that management is happy to see. If you ask your average CFO about their biggest concerns, most will tell you that increasing cash flow is a high priority. In order to succeed in this, you must know which key performance indicators to track that have a direct impact of cash flow, identify the mistakes or bottlenecks preventing you from improving your performance, and have a means for collecting and disseminating that information to the people responsible for making those improvements.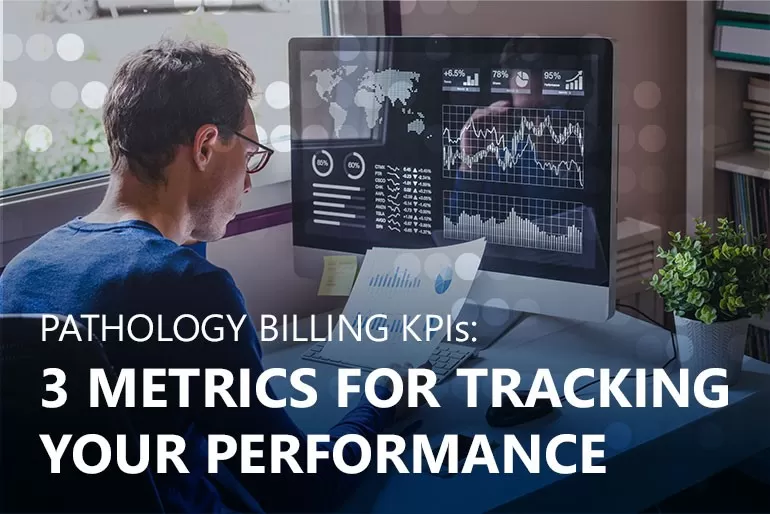 Key Performance Indicators for Pathology
The best way to know if you're making progress on the things that fuel your business is by monitoring them. It will help you stay the course and help build confidence as you see the process you're making in real time. Start by identifying key performance indicators (KPIs) with the highest potential for improvement, followed by having reports set up specific to those KPIs.
Net Collection Rate (%): Net Charges ÷ Net Collections. The national average is between 88-92%. Below average might mean your staff isn't following up as quickly as they should.
Bad Debt (%): Total Amount Written off ÷ Total amount that was eligible to collect. 10-12% is considered good to great in pathology. A great bad debt percentage is the product of higher collections due to better propensity to pay.
Denial Rate (%): Total number of claims denied ÷ Total number of claims remitted. You can also take the total dollar amount in denied claims divided by total dollar amount in claims submitted for remittance. This KPI tracks the percentage of denied claims and provides insight into how efficiently your claims process is operating.
ImagineIntelligenceTM provides custom reports and intelligence at scale to help you make data-driven decisions.
Reimbursement Challenges in Pathology Billing
In a 2019 survey conducted by independent research firm Laboratory Economics, 82.4% of laboratories and pathologists cited declining reimbursement as one of their biggest challenges. Pathology billing is comprised of several interconnected functions between multiple parties inside and outside a medical practice. Medical groups and large practices do close to 350,000 annually. Errors to watch for that slow down or reduce revenue growth include:
Missing billable tests- high volume testing leads to some billable tests being missed. Electronic interface between LIS systems and your billing platform reduces the number of tests being lost between front-end and back-end processes. This still requires careful due diligence. Patient insurance, demographics, and charge information between systems need to align or else may result in a higher denial rate.
Issues in eligibility - Eligibility errors comprise of 35-40% of denials even among the most well-run medical groups and practices. Online eligibility checks, insurance verification are effective methods for reducing these errors. Eligibility information being readily available within your billing system means that co-pay and deductibles can be collected prior or immediately following a test. In cases where insurance does not cover a test, patients can be given options for coverage or offered a discount depending on their propensity to pay. All this information can and should be available within the system.
Documentation errors- ICD-10 adds complexity since the lab and pathologist are now dependent on the referring provider for the actual ICD-10 code. There is also a need to make sure documentation captures all work done accurately and in a way that minimizes downstream denials. Pathology groups and practices should receive feedback through regular reporting.
Pathology Billing KPI Dashboard
A pathology billing KPI dashboard gives billing staff, managers, and executives immediate access to both basic and advanced data to help them better understand the current state of their billing. Even if your billing is running smoothly, you still need a dashboard to let you know in what direction your pathology billing KPIs are trending. When searching for a pathology billing dashboard, it should have the following capabilities:
The ability to drill into key performance areas including all KPIs and challenge spots. Separate and list denials by insurance plan according to which ones need to be worked.
Enough flexibility to accommodate different needs. Not every practice will have the same set of priorities. Dashboard that accommodates an assortment of filters and measures (ex. total claims, average reimbursement, days in A/R) and dimensions (ex. service date, payers, locations). Saving to a private folder or shared folder for everyone. Schedule to refresh data every day, week or month. Finance cube (denials by carrier, refunds, charge payments) Employee Productivity (ex. What they're currently working on. "Show Me The Money" answers what is currently outstanding in your system (ex. Charges and claims on hold, statements being reviewed).
Accessible feedback mechanisms like email notifications and scheduled reports for communicating up and down the chain of command. No one should be in the dark on how your practice is performing ever again.
Get in touch with one of our Revenue Success Managers to learn how practices have grown by rethinking the way they report on performance.