"Surprise bills" to patients for medical care contributed to two-thirds of all bankruptcies filed in America between 2013 and 2016. Twenty percent of people undergoing elective surgery between 2012 and 2017 received a surprise bill (averaging $2,011), most commonly from out-of-network anesthesiologists and surgical assistants practicing in the hospital or ambulatory surgery center covered by the patient's insurance (emergency care is another frequent source of surprise bills).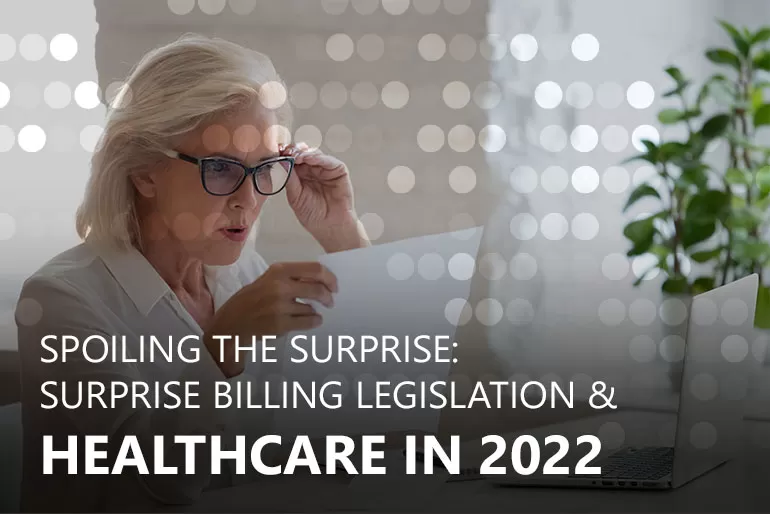 Support for ending surprise bills to patients is "solidly bipartisan." On December 27, 2020, President Trump signed the No Surprises Act as part of a $1.4 trillion year-end spending deal. When he was a Presidential candidate, Joe Biden included eliminating Surprise Bills in his health care platform.
Watch as Sarah discusses the No Surprises Act in more detail including the arbitration process dictated by the Proposed Final Rule, and what it means for providers beyond January 1st.
Although there has always been consensus on protecting the public, ferocious lobbying on Capitol Hill predated the law for two years. The battle (between the insurance industry and providers) asked this question: if patients can no longer be balanced billed (with few exceptions, Surprise Billing will end on the law's effective date of January 1, 2022), who will be left holding the empty bag?
The insurance industry fought hard for the right to negotiate out-of-network bills through regional benchmarks based on the plan's median in-network reimbursement for the service in question. Providers, fearing decreased compensation, fought equally hard for a baseball-style arbitration process allowing a third-party entity to establish final reimbursement between amounts suggested by both parties. The law sent to President Trump's desk appeared weighted toward the providers' side of the dispute.
The Biden Administration is now in the final stages of finalizing the law's details through the Executive Branch. The third Surprise Billing Rule released on September 30th clarifies how arbitration between payers and providers will occur- and providers are upset- both physicians and hospitals.
ImagineSoftware uses a staff-generated model. Patient-generated is available through one of our Partners. Please reach out if you have any questions.
The process articulated by the Executive Branch returns to the regional benchmark preferred by insurers. Arbiters will pick a final reimbursement based on the qualified payment amount [QPA], which is "the payer's median contract rate for the same or similar service in a geographic area." [quote]
After providers claimed a victory in Congress, it now appears insurers scored the win in the final rule-making process.
The arbitration rule from Washington will not be finalized until the required comment period ends at the end of November. Still, there is little expectation that the pendulum will swing back towards the provider's preferred process.
The No Surprises Act becomes effective January 1, 2022. Americans will no longer have to fear devastating financial burdens when they obtain care as allowed by their insurance plan. The question that remains is this: will providers ultimately be the parties surprised by out-of-network care reimbursement?
*All information to be conveyed is intended as general introductory information and is provided for informational purposes only. It should not be construed as legal advice and should not be relied upon as such. Please contact an attorney to obtain advice with respect to any particular issue or problem that may be related to the subject matter therein. The ideas and opinions expressed therein will be the ideas and opinions of the individual author and may not reflect the ideas or opinions of Technology Partners, LLC or any of its affiliates or subsidiaries.