This blog post has been co-authored with Jack McBride, CEO of OnQ Technologies. Jack provides tactical and strategic solutions for clients, and is a driven and effective business leader with expertise in process improvement, Jack has over twenty years of successful operations, programming, finance and accounting experience.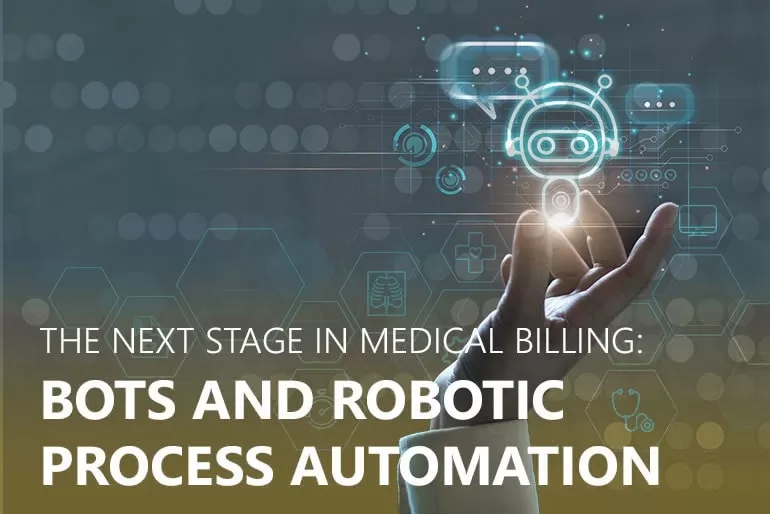 What is Robotic Process Automation?
Robotics Process Automation (RPA), specifically in healthcare billing, allows organizations to automate routine tasks just as if humans were interacting with the software themselves. Robotic automations interact with existing systems, require minimal integration efforts and work consistently with 100% accuracy.
What can Robotic Process Automation Tools Do?
Having a digital workforce means that an organization has employed multiple bots performing various tedious administrative tasks such as data entry, updating records, gathering information from websites, and performing calculations. This provides staff members the opportunity to interact with patients, follow up on billing issues, answer questions and perform additional meaningful duties.
Types of Bots in Robotic Process Automation
Depending on the task, there are two types of bots that can be deployed. Unattended bots will complete a task from start to finish and provide the end user with a log of work completed. Tasks requiring human decision-making skills can be initiated by a bot, presented to a person for a decision, and then completed by the bot. This type of digital assistant is referred to as an attended bot. With attended or unattended bots, practice groups and billing companies can:
Improve accuracy – 100% accuracy on all bots deployed to date
Scale immediately - Spin up multiple instances of the same bot when volumes increase
Increase employee satisfaction – Eliminate repetitive tasks taking the robot out of the human!
What Robotic Process Automation Software is Available?
ImagineSoftware has partnered with OnQ to provide clients with exclusive access to OnQ's bots and technology, or Qbots, providing clients with an even more efficient and automated system.
OnQ is uniquely positioned through its deep knowledge of ImagineBilling™ to deliver bots quickly and reliably. Combine that with their bullet-proof QA process and our world-class customer service and implementing bots into your workflow becomes a seamless process. Some of the benefits of employing OnQ's bots are:
Immediate ROI – Through OnQ's unique delivery model, clients realize an immediate cost benefit.
Quality – 100% accuracy and error free work
Consistency – With Qbots working around the clock, clients get predictive throughput with the ability to scale up or down on demand.
Compliance – All organizations have compliance protocols. Most breaches occur when those processes are not adhered to. Qbots do exactly what they are programed to do, every time, all the time.
Unlimited scalability
OnQ and ImagineSoftware together means that our clients gain priority access to OnQ's library of bots immediately. OnQ's deep knowledge of the ImagineBilling system means that there is less start up and implementation time required. For clients who have already employed ImagineAppliance®, OnQ's technology brings additional automation which means a hyper- efficient system with fewer denials, greater accuracy and unlimited scalability.
Ready to learn more about robotic process automation?