Originally published August 08, 2019
When you come across the term "robotic process automation," you might think it sounds like a futuristic idea. However, RPA, as it's often called, is a technology increasingly being utilized in the healthcare industry, including medical billing.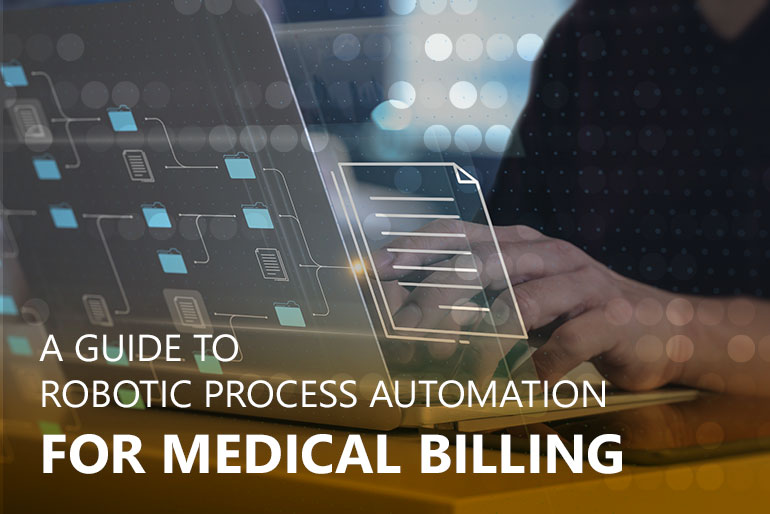 What is Robotic Process Automation?
Robotic process automation (RPA) software include tools that partially or fully automate human activities that are manual, rule-based and repetitive. RPA works by replicating the actions of an actual human interacting with one or more software applications to perform tasks such as data entry and process standard transactions or respond to simple customer service queries.
Download our eBook, "How Automation Could Improve Your Revenue Cycle."
What are the Benefits of RPA?
Think of RPA as a virtual assistant, an invisible employee that completes tedious tasks to enable your real employees to concentrate on more important revenue-generating tasks. As a software solution that acts as a low-cost virtual employee, RPA provides an array of benefits, including:
Reliability: Operations can be performed 24/7 as the bots work autonomously, only requiring human intervention when an employee must make a decision to guide the bot's next move or correct an error caught by it.
Compliance: RPA can follow company compliance rules and provide an audit trail history of the work performed.
Consistency and Accuracy: Configured to perform specific tasks the same way every time with no deviation, RPA use results in extreme accuracy and uniformity in task completion compared to simple human errors such as typos.
Productivity: Because the bot operates according to an automated schedule, process cycle times (in this case, revenue cycle processes) can be performed at a much faster speed compared to manual work.
Robotic Process Automation in Medical Billing
RPA can be employed in almost any step of the medical billing process to help automate and standardize mundane and time-consuming tasks. areas that are. Common areas for the use of robotic process automation in medical billing are payment posting, electronic health records (EHR) automation and claims administration.
Payment Posting
Payment posting is an integral part of revenue cycle management and improves cash flow and patient satisfaction if done properly and accurately. Doing so through automation aids in productivity and streamlines the pesky manual process of posting insurance payments.
Electronic remittance advice (ERA) is an electronic version of a paper explanation of benefits (EOB) and includes details about the amount billed, how much is paid by the health plan and a description of discrepancies between the two. By using ERA, which is designed to work in unison with other medical billing technologies without human intervention, payment posting can be automated, resulting in faster account reconciliation, fewer operating costs and enhanced staff productivity.
EHR Automation
EHRs were designed to provide valuable patient information in digital form and reduce administrative tasks for physicians. Unfortunately, EHR use has been directly linked to physician burnout. Most physicians experience fatigue working with EHRs for as little as 22 minutes, and EHR usability issues typically result in an increase in cognitive load and errors, which can lead to patient safety issues.
With the widespread adoption of EHRs, many physicians are spending more time than ever before in front of a computer screen instead of primarily focusing on patient care. RPA bots for healthcare can be used to automatically fill in EHR fields and duplicate necessary information across integrated systems. This reduces human error and allows physicians to spend more time with their patients.
Claims Administration
Inputting, processing and adjusting claims is not only a time-consuming process but also is extremely prone to human error, which is a common cause of initial claim denials. However, automated claims processing reduces the amount of manual work by 80 percent.
According to a Mckinsey & Company study, 25 percent of the insurance industry will be automated in 2025. The management consulting firm also noted that automation can reduce the cost of a claims journey by as much as 30 percent.
Investing in robotic processes automation for claims processing benefits healthcare organizations by:
Reducing overall costs and increasing efficiencies at every point in the process and for all parties
Helping them achieve goals in improving patient service excellence and cost-efficiencies
Decreasing human involvement in mundane tasks, such as the monitoring of services
Executing tasks faster and more effectively through technological solutions
Allowing them to focus on core tasks that require specialized and clinical experience
Providing a clear and detailed claim entry process, allowing for greater control over the process and improved visibility
Reducing need for reconciliation intervention by stakeholders
Diminishing manual tasks, paper-based transactions, hard copy filing and telephone interactions
At ImagineSoftware, our claims management solutions quickly create, send and track claims within an approval system configured to employees' preferred workflows. They also automate processes for high-volume, low-touch claims and flag unusual claims.
Gain efficiency in every step of the revenue cycle with ImagineSoftware's RCM solutions.
Putting RPA to Work for You
As pressures rise with the decline of reimbursement rates, optimization of medical billing processes is key to improving your bottom line. RPA is leading the way to automate many of the manual tasks associated with reimbursement interruptions. It typically can be applied without the additional expenses of outsourcing or investing in a complete software overhaul. Learn more by downloading our eBook, "How Automation Could Improve Your Revenue Cycle," or request a demo today!