The past several months have been overwhelming for healthcare providers due to the COVID-19 pandemic. Even before the novel coronavirus outbreak, though, many physician practices were struggling with the transition to value-based care and figuring out how to integrate automation and artificial intelligence (AI) technologies into their medical billing operations.
Trends in healthcare and the medical billing industry continue to emerge, and providers that want to maintain a strong revenue cycle must learn how to embrace them. So what is a new trend in medical billing and coding?
The patient payment experience
The integration of automation and healthcare
AI in medical coding
More choices around in-house billing vs. outsourcing medical billing
Let's discuss them all, how to take advantage of healthcare trends, and the future of medical billing strategy. The first part is understanding each one and the advantages precipitated by their inclusion in physician practices of all sizes.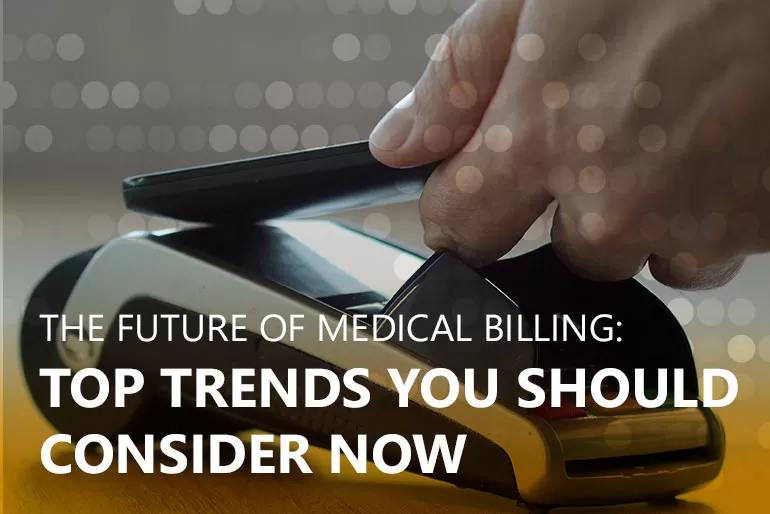 The Patient Payment Experience
Patients are beginning to hold their healthcare provider to the same expectations as they do their favorite retail stores, especially when it comes to medical bills. This is referred to as healthcare consumerism, which is a concept meaning people proactively using trustworthy, relevant information and appropriate technology to make better-informed decisions about their healthcare options in the broadest sense, both within and outside the clinical setting.
As one of the top trends in medical billing, healthcare consumerism requires providers who want to maintain a high level of patient volume to make the patient payment experience convenient. In fact, research has shown that a high percentage of patients seek providers with technology that offers online payment options, digital scheduling and portal and engagement capabilities.
ImagineSimplicityTM is an all-in-one patient billing solution, designed to streamline the payment experience for patients and providers.
Now and in the future of medical billing, physicians should consider how patients are treated throughout the collection cycle. Patients want to know approximately how much they're responsible for paying upfront and the option to enter into a payment plan if they can't pay their medical bill(s) in full. Many patients who aren't offered a favorable payment experience are likely to switch to a different provider. Approximately 90 percent report that they don't feel obligated to stay with healthcare providers who don't deliver an overall satisfactory digital experience.
Providers should equip their staff with payment tools that create convenience and cover all parts of the billing cycle, from pre-visit to collection. For example, estimation tools provide patients with a snapshot of how much they owe out-of-pocket, so they won't be blindsided with a surprise medical bill. This also enables providers to increase the chances of collecting.
Because many consumers prefer to pay their medical bills through an online channel, providers who utilize an online payment portal give patients the ability to pay their bills conveniently, even from their smartphone or other mobile device.
For large balances, having the option to pay over time is a huge game changer for many patients. Offering a payment plan gives patients more leniency in when and how much they pay at once, allowing them to feel more in control. For providers, it's another step toward streamlining their collections and increasing revenue.
These tools won't be especially beneficial if provider staff doesn't proffer favorable customer service to patients. Therefore, providers should ensure that billing staff is trained properly to answer all questions that patients may have about their balance and be knowledgeable about the solutions offered.
The Integration of Automation and Healthcare
An increasing number of providers are employing automation to streamline key financial and administrative aspects of their business. In addition to saving time and boosting productivity, automation for medical billing decreases delays and denials in reimbursement, enables provider staff to accomplish more work in less time and offers more comprehensive reporting.
Automation allows medical billers to work smarter and faster, alleviating manual processes, such as claims processing, that can severely delay collections. Roughly 40 percent of tasks conducted by healthcare support occupations can be automated.
According to the Council for Affordable Quality Healthcare (CAQH), the healthcare industry could save $9.8 billion annually by fully automating eligibility and benefit verification, prior authorization, claim submission, claim status inquiry, claim payment and remittance advice. More important than reduced costs, though, automation is a coding medical billing industry trend that gives staff more time to focus on patient care.
Patients should experience a positive interaction throughout the payment process. While automation takes over manually-intensive tasks like duplicate billing, incorrect modifiers and inaccurate patient information, billing staff can strengthen their skills in medical insurance and patient collections.
Possessing the ability to navigate interactive voice response (IVR) systems for insurance, communicate with insurance representatives and correct claims denials for resubmission is essential to collecting outstanding patient balances. Patients should walk away feeling confident in the ability to pay off their medical bills.
We focus on billing operations so you can focus on patient service.
The Future of Medical Coding: Riding the Wave of Artificial Intelligence
Utilizing technologies such as artificial intelligence (AI) gives healthcare providers and medical billing professionals the ability to eliminate repetitive and labor-intensive manual, paper-based administrative and clinical processes. It also helps to mitigate administrative errors in medical billing and address obstacles to accuracy and productivity.
Along with automation, computer-assisted coding (CAC) is a common application of AI in medical billing. It has been shown to lower coding time by 22 percent without reducing accuracy and increase coder productivity by more than 20 percent. Other advantages of employing AI include reduced claim denials, decreased operating costs due to manual billing processes, increased provider satisfaction through less electronic health record (EHR) data entry and improved workflows.
ImagineCodingTM Improve the overall accuracy of your claims by automating high-volume, complex procedure codes (CPT) and diagnostic codes (ICD-10).
The field of AI can be daunting and confusing, so conducting thorough research will allow you to discover what solutions are available and realistic for your organization. A common misconception is that existing artificial intelligence applications only improve coding. There are AI solutions, however, that also verify and correct patient demographic information, customize billing statement releases and notify billing staff automatically when a patient should be offered a payment plan.
Understanding In-House vs. Outsourcing Medical Billing
As for medical billing market trends, the medical billing outsourcing market is projected to grow to $16.9 billion by 2024. By cost-effectively enlisting the services of staff with comprehensive medical billing industry knowledge who are up-to-date on complex healthcare codes, rules and regulations, it increases provider compliance and aids in reducing operating costs and administrative workflow.
When healthcare providers perform their medical billing in-house, they're responsible for all aspects of revenue cycle management and submit claims for reimbursement, including setting charges, collecting patient fees and managing the accounts receivable (A/R). In-house medical billing also requires providers to acquire and maintain adequate IT infrastructure and equipment and billing software.
Outsourced medical billers also have extensive knowledge on the policies and procedures of claim submission, so they're able to submit accurate claims in a timely manner, reducing the number of rejected claims and non-payment due to a missed submission deadline. More claim denials are detected upfront, thereby improving payment rates and acquire prompting optimized cash flow.
Both methods for medical billing have their benefits and drawbacks, so it's up to the provider to weigh the differences carefully, both in terms of cost and operational factors, to decide which approach makes sense for them. Whether you're a brand-new organization or an established physician practice thinking about making the switch, the right answer involves analyzing and taking inventory of what truly determines the need for in-house or outsourced medical billing. Ask yourself the following:
Are you a new provider? New providers have a myriad of factors to consider when launching in hopes of acquiring patients and becoming successful. Outsourcing can relieve one of the most daunting aspects of starting new, leaving more time and effort for patient care.
Do you have high staff turnover? When a skilled billing specialist leaves, many practices have no choice but to fill the vacant spot immediately or risk revenue being compromised. Each new billing staff hire requires education and training on top of being responsible for keeping up with regulation changes. Outsourcing your billing can alleviate the stress of turnover and save costs in salaries.
Are you hands on when it comes to financial operations? Unlike an office environment, outsourced billing staff will not be readily available to your management team. Many providers are comfortable with this lack of control of medical claim operations, but others prefer to keep it closer to home. Some providers prefer being hands-on through in-house billing, especially when trusted and long-term employees are handling the revenue cycle.
Do you prefer staff to be readily accessible? If an issue arises, many providers prefer to walk over to their billing department to discuss the issue instead of calling someone who works for an outsourced company. In terms of convenience, having in-house billing staff accessible is a major advantage.
With these trends becoming a bigger part of the future of medical billing, it's important for healthcare leaders to embrace them and place themselves at the forefront of the medical billing industry.
Find out about ImagineSoftware and the array of professional services we offer to healthcare providers of all specialties.