Technology Partners, LLC (dba ImagineSoftware™), a leading provider of medical billing automation software and revenue cycle management applications, announces its Chief Talent Officer Jessica Chasteen was recently named among the 2022 "Top 25 Women Leaders in Healthcare Software" by The Healthcare Technology Report.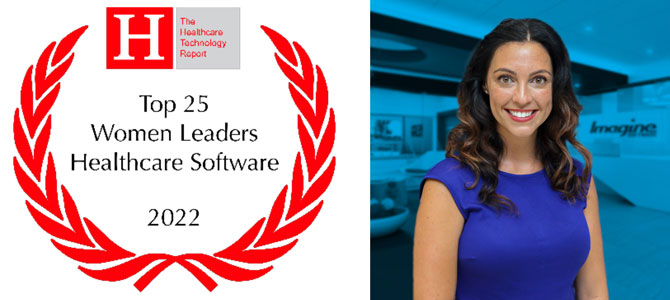 The awardees on this year's list are among the most accomplished women in senior leadership roles across the healthcare technology industry. These leaders represent companies that provide solutions in a wide range of areas, from connected care to clinical software, ambulatory practices, cost containment, and beyond. All have a proven track record of leading their teams in producing exceptional results while contributing to the products and services that are innovating the healthcare technology landscape for providers and patients alike.
With over a decade of tenure at ImagineSoftware, Chasteen is responsible for leading all aspects of human resources, including recruiting, onboarding, retention, development, compensation, benefits, and diversity and inclusion efforts. Notably, she helped grow ImagineSoftware from 40 employees to nearly 200 employees across three office locations, plus remote, and implemented operational technology to drive efficiency in payroll, performance review management, and training processes.
"Technology in healthcare remains, as ever, a truly dynamic field. ImagineSoftware has earned a reputation as a trusted partner in healthcare software automation, and we continue to grow, build, design, innovate and expand into new specialties, products and services," said ImagineSoftware President & CEO Sam Khashman. "We are thrilled that The Healthcare Technology Report has acknowledged Jessica for her outstanding contributions to Imagine. Her professionalism, dedication, contributions, and commitment are an inspiration."
Hundreds of women were nominated for this year's list. Each nominee was evaluated based on the scope of her experience, professional milestones achieved, and contributions to her organization and the broader healthcare industry.
"It is such a tremendous honor to be named among this respected group of women leaders from across the healthcare technology industry," said Chasteen. "I am so grateful to the Imagine team for their ongoing encouragement and belief in me, and I share this award with them. It is truly gratifying to work alongside such a wonderful group of individuals each day to recognize our ongoing mission in driving success for our clients, partners, and employees through dynamic systems and a culture of excellence."
The Healthcare Technology Report
The Healthcare Technology Report provides market research and insights, business news, investment activity updates, and important corporate developments related to the healthcare technology sector. Based in New York City, the firm is run by a seasoned team of editors, writers, and media professionals highly knowledgeable on healthcare technology and the various companies, executives, and investors that make up the sector.
Technology Partners, LLC (dba ImagineSoftware™)
ImagineSoftware is the leading provider of medical billing automation software and revenue cycle management applications. Offering powerful technology solutions for medical billing offices, practices, and hospitals for over 20 years, ImagineSoftware currently serves more than 75,000 physicians across 43 specialties. ImagineSoftware solutions improve financial efficiency, build provider reputation, and ultimately improve the patient experience. For more information, visit imagineteam.com and follow us on Twitter @ImagineTeam or connect with us on LinkedIn "ImagineSoftware (Technology Partners, LLC)".